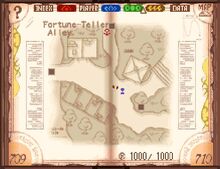 In game description:
"Fortune-teller alley. Many shops linethe street, but Nanai's is the most popular though her accurate readings actually scare clients away! With so many spirtual people gathered, strange things happen here"
List of things to explore:
North wall - "You can drop down from here"
West bridge - "An unfinished bridge. You can often find Rex fishing here."
Bottom east path tree - "The treetops are full of nests"
Reward for all - None
Flower(s):
People in area:
Meenya- Starts with Forest x2, Bird x3 and Wisdom x4 which all turns into Mystery x9
Adjacent areas:
Bottom East - Town Entrance
Top East - Center of Town
From Back Alley down the north wall
Left House - Rex's House
Right House - Nania's House